The widespread use of explosive weapons in populated areas contributes to driving people and families from their homes in conflicts across the world, as well as to preventing their return. Bombing and bombardment causes high levels of death, injury and fear; destroys dwellings, infrastructure and livelihoods; and leaves explosive hazards that render areas unsafe. The repeated use of explosive weapons in populated areas can lead to people being displaced multiple times during a conflict. Those displaced and in temporary shelters are particularly vulnerable to explosive weapons. When conflict parties use explosive weapons in populated areas, 92% of direct casualties are civilians.
"I had gone upstairs to check on something and forgot my mobile phone. My son came up the stairs to bring me the phone, and that's when the bomb hit the house. There was just one wall separating my son from the damage of the bomb. I took the children, came downstairs, stayed that night with our neighbours, and the next day came straight to Lebanon." – Rouba, a Syrian refugee interviewed by Action on Armed Violence in Lebanon
Bombing in towns, cities, and other places where civilians live, work and shelter is likely to be a significant factor in current unprecedented levels of mass displacement caused by conflict, both within and between countries. Both this crisis and the use of explosive weapons in populated areas, one of its many drivers, have so far been inadequately responded to by states.
Moves to address the explosive weapons problem
Recently, however, the humanitarian harm caused by explosive weapons has begun to be addressed at the international level, with states commencing a process to adopt a political commitment to better protect civilians from the use of explosive weapons in populated areas. This will address in particular explosive weapons with wide-area effects, which cause the greatest harm. It will represent a first step towards responding to this issue. Bombing in populated areas should not be seen as an inevitable part of war. It is a choice that conflict parties can (and have been known to) avoid in order to minimise the devastation and suffering wrought on communities forced to live through armed conflict.
Over fifty states have recognised the harm caused by the use of explosive weapons in populated areas, as have UN and humanitarian leaders and the International Committee of the Red Cross (ICRC). The UN Secretary-General and the head of the ICRC, in a recent unprecedented critique of international efforts to protect civilians in conflict, demanded that states stop the use of "heavy explosive weapons in populated areas."
The significance of this initiative for refugee agencies
For those working to support the rights and needs of refugees and internally displaced people, the development of an international response on the issue of explosive weapons is highly relevant. While bombing and bombardment is only one of the reasons why people are forced to leave their homes by war, action on the use of explosive weapons in populated areas focuses on addressing a key proximate cause of the predicament of people displaced by conflict. The use of explosive weapons in populated areas also impedes humanitarian action and endangers humanitarian workers, including those supporting displaced people.
"Sa'ada was burning, I saw it. It was in the night and I was sleeping in my bed. We were woken up by very strong bombing everywhere. I saw everything around me was on fire. There were bombs landing everywhere. You can't imagine it, but I'm telling the truth. My father told me our house was damaged and so we had to come to Sana'a. We don't have anywhere else to go so now we live in this school. But we're still afraid. I cry when I hear the planes flying in the sky." – Reham, five years old, interviewed by Save the Children in Yemen
Refugee agencies should consider highlighting the use of explosive weapons in populated areas as a matter of concern. The practice represents a cause of displacement, a circumstance under which individuals should be assisted to leave areas if they wish , and a continuing threat to displaced people. It must be addressed by states from the point of view of protection and prevention. Organisations should consider supporting and contributing to the process towards a political commitment on explosive weapons. The relationship between explosive weapons and displacement should be better understood by states, and insights and evidence from specialist agencies would be highly valuable. The issue also must be reflected with appropriate nuance in the outcome of the current international process on explosive weapons.
Acknowledgement and documentation on explosive weapons and displacement
That the use of explosive weapons in populated areas is a significant driver of displacement has been recognised by numerous states at UN Security Council debates on the protection of civilians in armed conflict,  as well as at the 2015 UNHCR High Commissioner's Dialogue on Protection Challenges. UN officials and agencies such as the chair of the OHCHR commission of inquiry on Syria, the UN Secretary-General and OCHA, as well as the ICRC, have also drawn attention to forced displacement as an impact of bombing and bombardment in civilian areas. In Syria the use of explosive weapons in populated areas may be displacement's primary cause.
"The kinds of rockets they were using were just unbelievable. The rocket launchers were more dangerous than anything because they don't target. They just hit randomly…The bombing was in the town. Bombing was a process of displacement, to pressure the civilians, to push us out." – Omar, a Syrian refugee now in Lebanon, interviewed by NGO Action on Armed Violence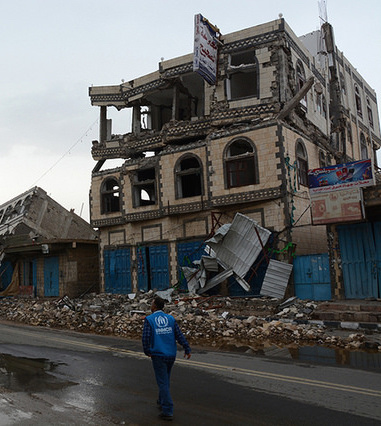 Documentation by human rights and humanitarian organisations, based on interviews with refugees and internally displaced people, has recorded consistent reports of displacement due to the use of explosive weapons in populated areas, as Human Rights Watch has found for example in Syria and Ukraine and Save the Children in Yemen. The three countries that were by far the most affected by explosive violence in 2015, according to English-language media monitoring by the NGO Action on Armed Violence, were Syria, Yemen, and Iraq. The countries with the greatest number of newly internally displaced people in 2015 were also Yemen, Syria and Iraq, making up over half of the global total, according to the Internal Displacement Monitoring Centre (IDMC). The IDMC's latest report notes airstrikes in Yemen and the increased use of rockets and mortars in populated areas in counter-insurgency operations in Afghanistan in discussing increased displacement in those countries during 2015.
"The children especially have found it hard. All of them have some kind of pain because of this. Sometimes they wake up screaming in middle of the night and I have to tell them they are safe and it's OK. They are always asking, 'When will we go back? When will we be able to go to school?' And it upsets me because I don't have an answer for them." – Rais, interviewed by Save the Children in Yemen
The threat to return caused by widespread and intensive use of explosive weapons in populated areas in Syria was also assessed last year by Handicap International, and the barriers to return created by the destruction of infrastructure and explosive hazards in Libya documented by the UN commission of inquiry.
A number of links between explosive weapon use and displacement can be made, and more systematic evidence in this regard would be beneficial. For the advancement of civilian protection during conflict, these links should be articulated in international efforts to prevent harm from the use of explosive weapons with wide-area effects in populated areas.
Much of the information referenced above was collected by members of the International Network on Explosive Weapons (INEW), a global civil society coalition calling for immediate action to prevent human suffering from the use of explosive weapons in populated areas. INEW is open for membership to concerned NGOs.
This post was first published by Article 36.
Read more
International Network on Explosive Weapons (INEW) briefing paper for the World Humanitarian Summit
'A Commitment to Act': Briefing book by INEW on an international political commitment to address harm from explosive weapons
Browse INEW member resources on the impact of explosive weapons