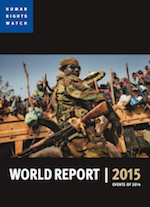 INEW member Human Rights Watch has highlighted the devastating impact on civilians of the use of explosive weapons in populated areas, and growing international momentum to address the issue, in their 25th annual review of human rights practices around the globe.
Drawing on extensive investigative fieldwork from Human Rights Watch researchers, the 2015 World Report reviews key human rights issues from 2014. Its chapter 'Deadly Cargo' addresses the critical issue for civilian protection of explosive weapon use:
Most civilians killed or wounded in warfare today are the victims of explosive weapons—a lethal range of munitions that include aircraft bombs, mortars, artillery, rockets, barrel bombs, and ballistic missiles — detonated in populated areas. In "Deadly Cargo: Explosive Weapons in Populated Areas," Steve Goose and Ole Solvang provide a stark picture of the devastating human and physical damage caused by these weapons in such environments, where flying shrapnel finds easy targets.

In the past two years alone, explosive weapons have maimed and killed tens of thousands of people—mostly civilians—in attacks that often violate inter- national law. Noting building international momentum to address the issue, Goose and Solvang call on countries to—among other steps—cease using such weapons, especially those with wide area effects, in populated areas, as well as review na- tional policies that outline how and when they are deployed.

"Curbing their use," they write, "would have a bigger impact on the protection of civilians during armed conflict than anything else we could do."
Read 'Deadly Cargo' in full here or download the full World Report here.
Devastating toll in Ukraine
In a subsequent investigation of the rising death toll in Ukraine in January 2015, Human Rights Watch documented the severe toll that the use of explosive weapons in populated areas is taking on civilians. The report noted that:
"Human Rights Watch is also concerned about the frequent use of explosive weapons with wide-area effect in populated areas. Frequent strikes on residential or civilian buildings, and corresponding civilian casualties, indicate that neither side is capable of targeting these weapons accurately enough to ensure that using them in populated areas is not indiscriminate" and issued the call that "both sides to the conflict should stop using unguided rockets and explosive weapons with wide-area effect in populated areas".
The report contains numerous cases showing the devastating effects on civilians.
Read more
Learn more about the problem of explosive weapons in populated areas